Organic tea for children 20 bags of 1,5 g for easy digestion, after 6th month, po 6. miesiącu
Apotheke
dobra i tania herbata dla dzieci bez cukru
Patrycja
Organic tea for children 20 bags of 1,5 g for easy digestion, after 6th month, po 6. miesiącu
5
4
Organic tea for children 20 bags of 1,5 g for easy digestion, after 6th month, po 6. miesiącu
działa przeciw wzdęciom i ułatwia trawienie. Przygotowanie: 1 saszetkę zalać 250 ml wrzącej wody, pozostawić 10 minut do zaparzenia. Dla dzieci powyżej 6 miesiąca. Wskazane dawkowanie: 2 - 3 szklanki dziennie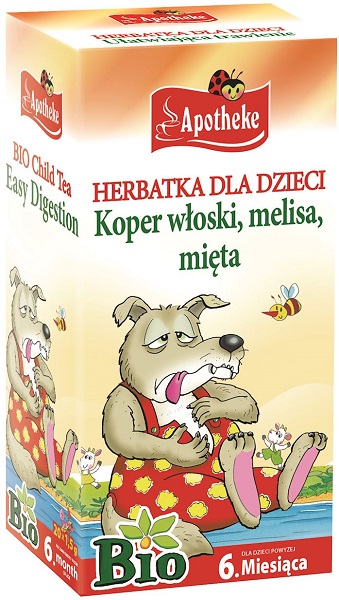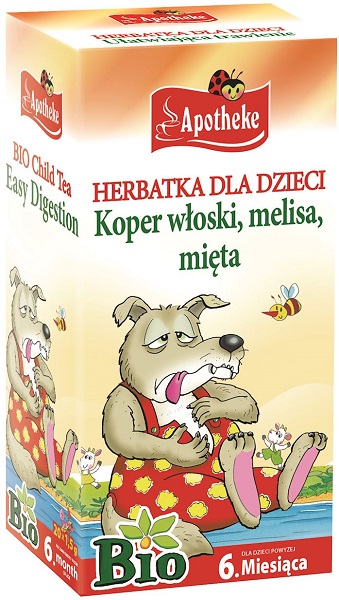 Owoc kopru włoskiego (Fructus Foeniculi), ziele melisy (Herba Melissae), liść mięty pieprzowej (Herba Menthae Piperitae), liść maliny (Folium Rubi Idaei), kwiatostan lipy (Flos Tiliae), owoc kminku (Fructus Carvi). Składniki pochodzące z upraw ekologicznych 100%.

działa przeciw wzdęciom i ułatwia trawienie. Przygotowanie: 1 saszetkę zalać 250 ml wrzącej wody, pozostawić 10 minut do zaparzenia. Dla dzieci powyżej 6 miesiąca. Wskazane dawkowanie: 2 - 3 szklanki dziennie

How to add an opinion ?
How to add an opinion?
Po doręczeniu Twojego zamówienia, w zakładce "Panel klienta / Oceń produkty" (widocznej w menu po zalogowaniu) zobaczysz pełną listę kupionych przez Ciebie produktów. Przy każdym z nich możesz zamieścić swój komentarz i ocenę.
Opinie klientów o produkcie
Ocena wystawiona produktowi przez klientów: doskonały
5

/5

Na podstawie 4 ocen.
Patrycja , 2015-09-13 14:25:06

dobra i tania herbata dla dzieci bez cukru